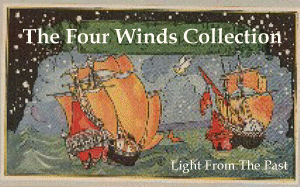 ---
RICHARD STONE REEVES LIMITED EDITION PRINT CONSIGNMENTS
LARGEST COLLECTION ON THE INTERNET
---
Consignment Page 2 | Reeves Page 1 | Reeves Page 2 | Reeves Books | Four Winds Home Page |
---
All values shown are unframed Replacement Market Value (RMV). RMV is the value that insurance companies would normal pay to replace a damaged or stolen piece of art. RMV can be higher or lower then the current secondary market value. High quality matting and framing can increase the value of a piece of art. The following art should be purchased based on appeal and not for investment purposes. Most of the prints were published by The Racing Scene Gallery or The Newmarket Gallery.
Contact Four Winds Collection for additional details about the description of the prints. Four Winds Collection is acting as an agent for the transaction and is not responsible for errors or omissions in the descriptions. All sales are guaranteed by the consignor as described. If the print is not as described then the print can be returned.
---
WE WILL FORWARD ALL SERIOUS OFFERS TO THE CONSIGNORS
---
email to: Four Winds Collection
---
This consignment is no longer available.
---
The following prints are from a consignor located in Virginia. Some prints were once matted with non-acid free material and have some foxing or condition issues. Some prints are framed. The framed prints are in very good condition. Frame size are approximate (within 1/2 inch). Based on some research the prints with foxing can be restored to near mint condition. Estimates for restoration are around $150 to $300 not including shipping cost.
---
PLEASE NOTE THAT THE CONSIGNOR NEEDS TO SELL
---
The Following Prints are Available from the Same Consignment

The Following Bronze Sculptures by Rene Williams are Available from the Same Consignment
---
---
ORDER INFORMATION:
When you inquire about a piece please specify the item number, description, and any special requirements. Also specify shipping location include city, country, and zip or local shipping codes.
Make all initial inquires by electronic mail at : Four Winds Collection
We will get back to you as soon as possible with availability and cost. If we need more information we will contact you by electronic mail or by telephone.
When you inquire include your full name, business name, email address, a telephone number, and the best time to call.
For USA orders we will accept personal checks or money orders. Allow extra 5-7 business days for personal checks to clear. For international orders we will accepts checks drawn on USA banks only or bank wire transfers. Add $40 for wire transfers.
The following information is provided by Four Winds Collection based on material received from the consignors. Errors and omissions are not the responsibility of Four Winds Collection.
---
---
Thank you for visiting.
Contact Four Winds
---
Four Winds Home Page | Order Information | Reeves Home Page |

Last Update 04/20/2018

© 2012-2018 The Four Winds Collection